How To Order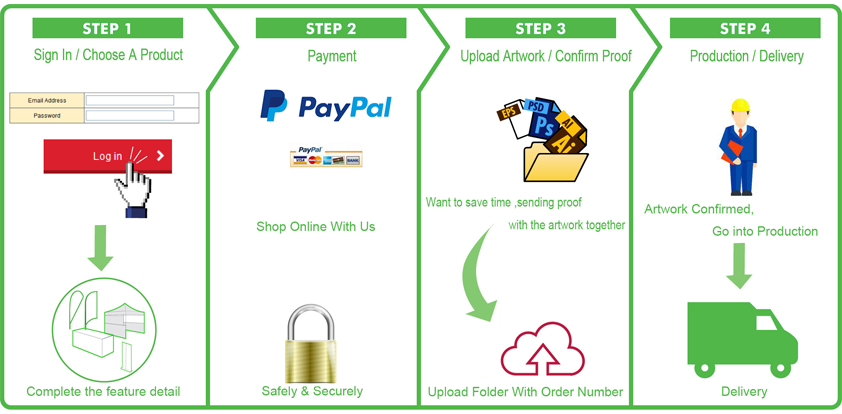 Step1:
Create New Account or Sign In directly,(Please review the
artwork/graphic guidelines
and Instructions before placing your order).
Choose the products you want to order also complete the feature detail.
Add to CART or checkout and confirm the order information again.
Step2:
Then click the PLACE AN ORDER button ,Arrange payment.
Step3:
At the same time ,upload your artwork by Upload Artwork or Send us your download Link to your Salesman with order number.
(If you want to save time ,Sending both the confirm file in (JPG format) together with the printing file(AI,PDF OR EPS format) !)
We convert artwork to print ready file and email low res(Proof). artwork proof for you approval.
Step4:
Confirm proof then produce.
Dispatch your order .
Artwork Notice:
Please send artworks by using our Free File Uploading Artwork Service or your own downloading link with Purchase Number.
Note:
1. List Email Address And Order Number ! (We can download artwork and confirm proof with you);
2. If you have multiple artwork files for your order, please specify the quantity of each to be printed.
3. If you have more than 10 files, please put them into a zip file or click "next upload" after the first upload is complete.
4. AI,PDF, .eps format artworks files are recommended,remember to outline all fonts,link all images and flatten your files !
5. In order to save lead-time, please send orginal printing files (AI,PDF or EPS format) together with confirmed proof (JPEG format).
We shall not take any responsibilities for any delay in delivery casued by artworks/files fail to meet our standard requirements .
Production Time :
Hardware: About 1 Working Days;
Flag Or Banner: About 1-3 Working Days,Less Than 20 Piece;
Table Cover: About 1-3 Working Days,Less Than 20 Piece;
Roll Up Banner: About 1-3 Working Days,Less Than 20 Piece;
Pop Up Display: About 1-3 Working Days,Less Than 20 Piece;
Tension Fabric Display: About 1-3 Working Days,Less Than 20 Piece;
Custom Canopy and Wall : About 3-5 Working Days,Less Than 10 Piece;
Inflatable Tent: About 15 Working Days,Less Than 5 Piece;
After the artwork proof has been approved and payment done;
Big Order Contact your salesman;
HOW TO FIND :
Contact salesman (Sign in your account ,find out your salesman's name and email address on top)
Delivery Time :
America and Canada: About 2-3 Working days;
Europe: About 3-5 Working Days;
Australia and New Zealand: About 3-5 Working Days;