How To Order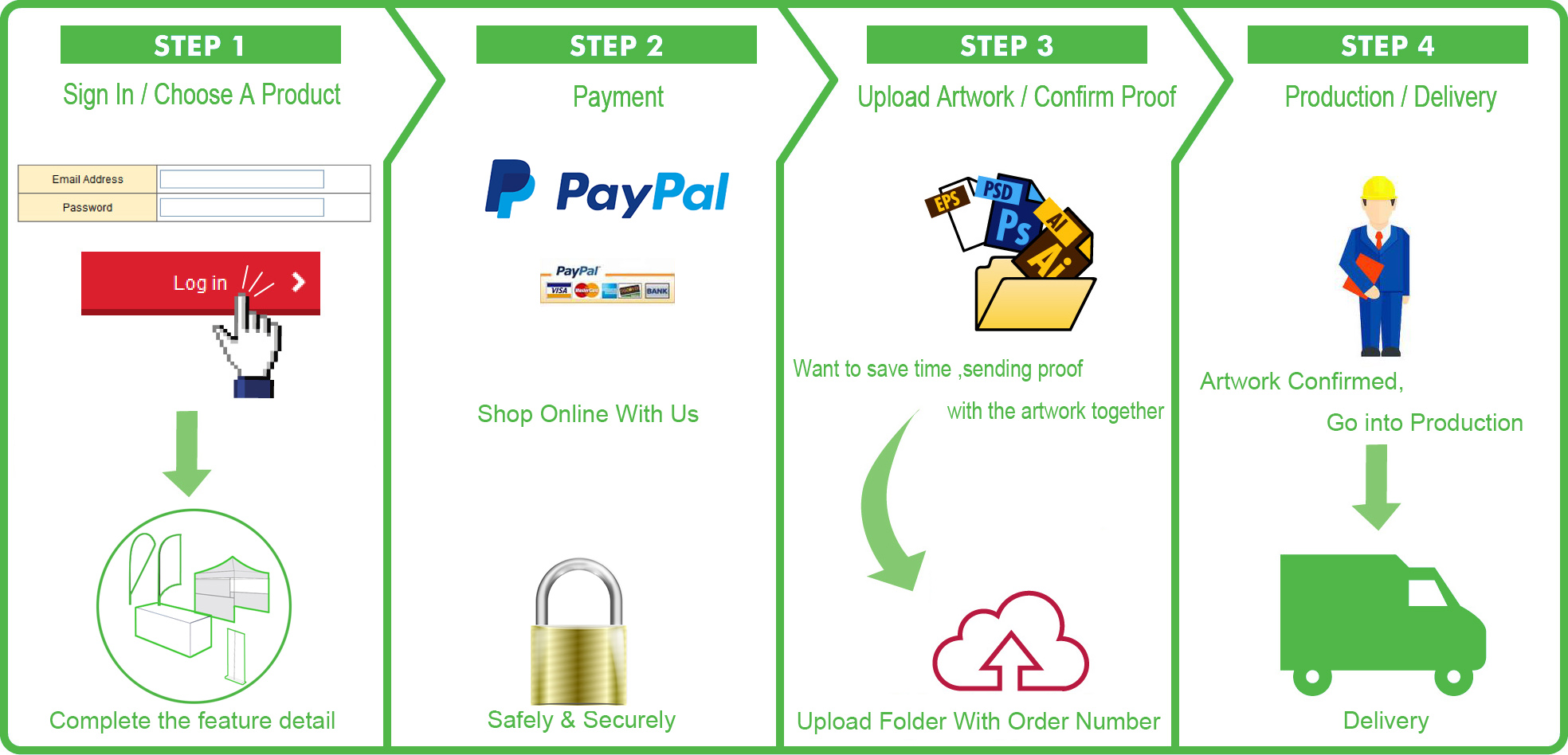 Artwork Notice:
Please send artworks by using our Free File Uploading Artwork Service or your own downloading link with Purchase Number.
Note:
1. List Email Address And Order Number ! (We can download artwork and confirm proof with you);
2. If you have multiple artwork files for your order, please specify the quantity of each to be printed.
3. If you have more than 10 files, please put them into a zip file or click "next upload" after the first upload is complete.
4. AI,PDF, .eps format artworks files are recommended,remember to outline all fonts,link all images and flatten your files !
5. In order to save lead-time, please send orginal printing files (AI,PDF or EPS format) together with confirmed proof (JPEG format).
We shall not take any responsibilities for any delay in delivery casued by artworks/files fail to meet our standard requirements .
Production Time :
Hardware: About 1 Working Days;
Flag Or Banner: About 1-3 Working Days,Less Than 20 Piece;
Table Cover: About 1-3 Working Days,Less Than 20 Piece;
Roll Up Banner: About 1-3 Working Days,Less Than 20 Piece;
Pop Up Display: About 1-3 Working Days,Less Than 20 Piece;
Tension Fabric Display: About 1-3 Working Days,Less Than 20 Piece;
Custom Canopy and Wall : About 3-5 Working Days,Less Than 10 Piece;
Inflatable Tent: About 15 Working Days,Less Than 5 Piece;
After the artwork proof has been approved and payment done;
Big Order Contact your salesman;
HOW TO FIND :
Contact salesman (Sign in your account ,find out your salesman's name and email address on top)
Delivery Time :
America and Canada: About 2-3 Working days;
Europe: About 3-5 Working Days;
Australia and New Zealand:About 3-5 Working Days;